Hi everyone!
If you like giveaways, you should check out
OurKidsMom.com
.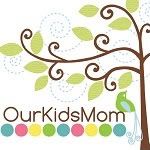 There's tons of giveaways! You're going to need a little elbow grease to put in additional entries but the prizes are worth an extra minute or two-- or in my case five. :)
Check out the site and sure to rate a 10 for the site here (click
here
) on
TopMommyBlogs.com
- Jackie
P.S. I wasn't asked to promote or required to promote for an additional entry-- nor am I paid in any other way! :D I just really like the site!